About Prairie Seed Farms
The Prairie Experts -- Serious about conservation and farming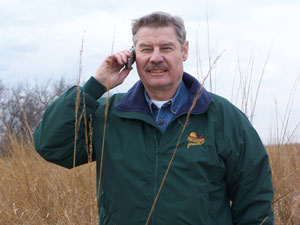 In the rolling hills of Lucas County, Iowa, John Osenbaugh was growing prairie grasses on his family's Century farm way back in 1980. Today, with more than 125 years combined experience in growing, drying and processing the finest prairie and conservation seed available, Osenbaugh's Prairie Seed Farms ships products worldwide. But you'll get a lot more than great seed at Prairie Seed Farms. You'll also get reliable planting and prairie management advice, as well as the backing of Prairie Seed Farms' 100% satisfaction guarantee or it is FREE*.
Learn more about the Prairie Seed Farms 100% Satisfaction Guarantee

Ordering & on time delivery is fast, easy and worry-free.
While we do business worldwide, we aim to make each customer's experience a personal one at Prairie Seed Farms. And, we're staffed to take and process orders quickly. That's important to us, because we know it's critical that you have your seed on your farm and ready to go when you need it.
Free phone consultation makes prairie management easy.
Expert advice by phone is a trademark of Prairie Seed Farms, where real prairie experts tend the phones every work day from 8 to 5. For every customer, planting advice and ongoing management tips are always just a phone call away. Backed by hands on experience in prairie management, our seed consultants can steer you away from problems before they ever happen. That way you can spend more time enjoying your prairie instead of wringing your hands over unforeseen complications.
Select seed makes planting easy.
Dirty, improperly cleaned/processed seed mixes can spell trouble at planting - like causing gaps in the seed distribution, plugging up the drill tubes and/or seed gushing out uncontrollably. To prevent that, your Prairie Seed Farms prairie seeds and CRP mixes are specially grown and dried, and really cleaned in special processing plants. Careful mixing and bagging of your order helps assure the proper seed texture you need for uniform seed flow in native grass drills. Expert planting instructions come with every order. You'll find that the fresh, clean seeds that Prairie Seed Farms delivers germinate rapidly and establish themselves quickly.
We help produce beautiful prairie habitats that are better for wildlife.
Better land management and bountiful wildlife start with the select seeds nurtured by Prairie Seed Farms. Each prairie mix is specially formulated to support wildlife throughout every stage of life and maximizing benefits of the intended conservation application. When you do things right from the beginning, it pays off for generations to come.